One of the questions we get asked most frequently is which direction should we walk the South Downs Way in? There is no right or wrong answer to this and it's a fantastic experience whichever way you do it. Having said that, on balance we recommend walking from west to east, for two main reasons:
• The first one is that finishing the walk in Eastbourne via Beachy Head & the Seven Sisters along the spectacular coastal path makes for a fitting finale to the walk. In fact, starting from Winchester the scenery seems to build and build as you head further east and start glimpsing views of the sea as well as the North Downs inland.
• The second reason is that you're more likely to have the prevailing wind at your back if you walk from west to east. Obviously, with the British weather, there is no guarantee of that but the odds are in your favour!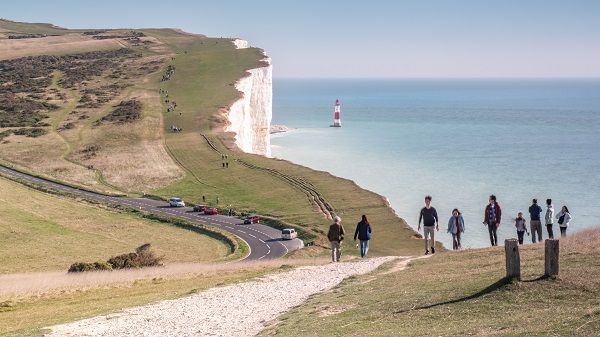 Our Walking Itineraries
Our South Downs Way walking holidays and baggage transfers mostly run from west to east but we can also help if you decide to walk in the other direction. Whichever way you decide to do it, we'd definitely recommend spending some time in the historic cathedral city of Winchester. One of our favourite things to do in Winchester is to stroll along the banks of the River Itchen. It runs through the centre of the city, splitting into several channels and taking you alongside some magnificent historic buildings such as Wolvesey Castle.
Take A Rest Day!
If you plan to walk the whole of the South Downs Way and can spare the time, we'd also highly recommend taking a rest day in the middle. Not only does this give your tired legs and feet a much-needed rest, but it also gives you the opportunity to explore this beautiful area in more depth. Amberley or Arundel are ideal as Amberley sits right on the South Downs Way very close to the halfway point and Arundel is only 5 minutes away on the train.
Amberley is a picture postcard traditional English village complete with thatched cottages and a castle, which is now a private hotel. Arundel also boasts a (much bigger) castle, cathedral and lots of independent shops and restaurants.
Other highlights include the historic town of Lewes, the pretty village of Alfriston, Eastbourne with its grand Georgian & Victorian buildings lining the seafront and others too numerous to mention!
Want more information? Check out our most popular routes.